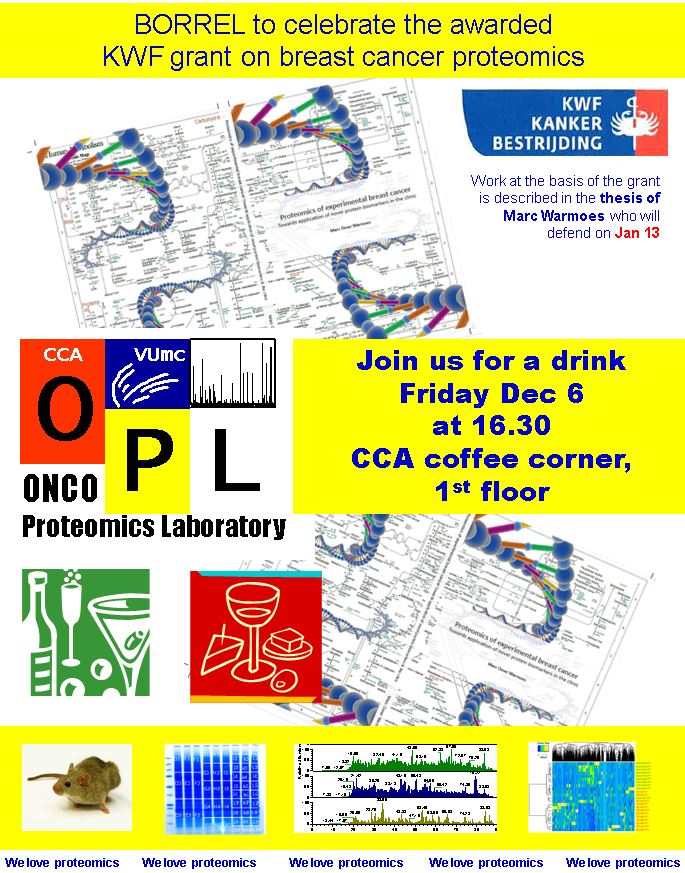 KWF awarded on breast cancer proteomics! Borrel 6 dec 16.30, CCA first floor
Post by:

OPL

November 26, 2013

Comments off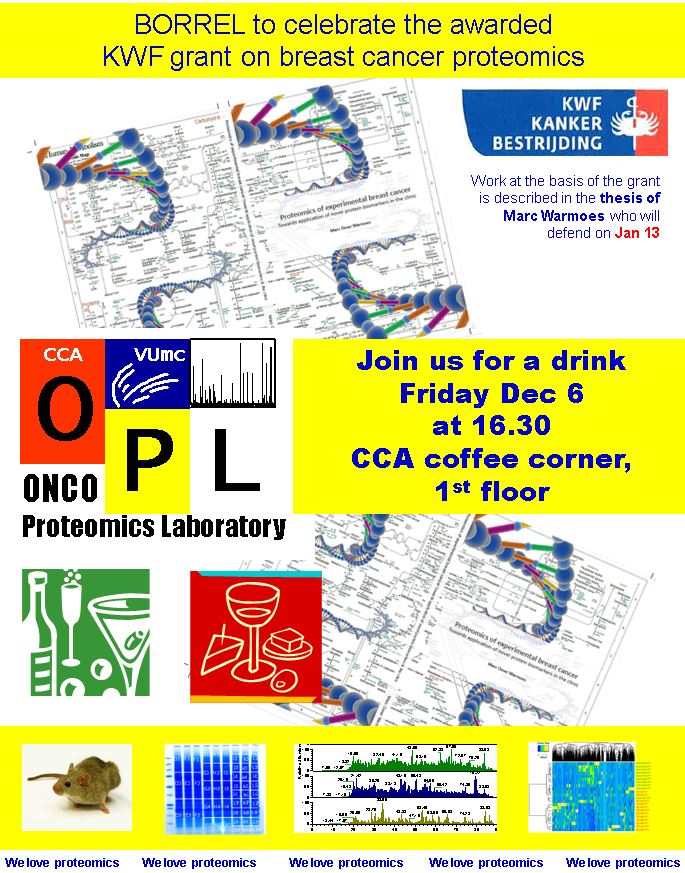 Discovery and clinical validation of novel protein biomarkers for homologous recombination deficient breast cancer
projectleiders: Dr. Connie R. Jimenez (Vumc); Prof. dr. Jos Jonkers (NKI); Prof. dr. Paul van Diest (UMCU).
"Triple negatieve" borstkankers (TNBCs) vormen ongeveer 15% van alle invasieve borstkankers. Deze tumoren missen expressie van oestrogeenreceptors (ER), progesteronreceptors (PR) en humane epidermale groeifactorreceptor (Her2) en kunnen dus niet worden behandeld met hormoontherapie of anti-Her2 therapie. Een deel van de TNBCs is echter gevoelig voor chemotherapie, waarschijnlijk door mutatie of epigenetische inactivering van BRCA1, een gen essentieel voor het foutloos repareren van dubbelstrengs DNA-breuken via homologe recombinatie (HR). Veelbelovende behandelingen voor patiënten met BRCA1- ofBRCA2-deficiënte borsttumoren zijn platines en Parp1-remmers die deze DNA-schade veroorzaken.
Er is echter geen simpele HR-deficiëntietest om patiënten te selecteren voor therapie. De huidige tests maken gebruik van vers weefsel (Rad51 focus assay) of van een genoomprofiel dat nietper se de actuele HR staat van het Brca-systeem weerspiegelt. Een simpele eiwittest die werkt met parafine materiaal is zeer te verkiezen.
Recentelijk hebben we middels geavanceerde massaspectrometrie in borsttumorweefsel van BRCA1-deficiënte muizenmodellen een eiwitprofiel van DNA-hersteleiwitten geïdentificeerd met diagnostische waarde voor humane BRCA-gemuteerde borsttumoren. In dit project willen we deze succesvolle analyse uitbreiden naar meer relevante xenograftmodellen (muizen met geïmplanteerde humane tumoren) en de resulltaten valideren in een preklinische studie en in een klinisch cohort.
Verwachte resultaten en relevantie voor kanker
Dit onderzoek, waarbij geavanceerde massaspectrometrie gebruikt wordt, draagt bij aan de KWF-speerpunten 'onderzoeksresultaten zo snel mogeijk naar de patiënt' en 'meer genezing' door selectie van de juiste patiëntengroep voor de juiste therapie. 
We verwachten dat we de volgende resultaten verkrijgen: (1) nieuwe inzichten in mechanismen van therapiegevoeligheid en resistentie in TNBC's voor platines of PARP-remmers in relatie tot HR status enBRCA-status; (2) nieuwe gevalideerde eiwitbiomarkers and -bepalingen voor HR -deficiëntie; (3) nieuwe multiplex assays voor klinische applicaties. Deze biomarker tools zullen ons helpen om responsen van HR deficiente TNBCs op platina drugs en PARP remmers te voorspellen.