Prostate cancer exosome project with Erasmus and Radboud funded by KWF/ Alpe D'HuZes !
Post by:

OPL

January 7, 2016

Comments off
KWF Kankerbestrijding in samenwerking met Alpe d'HuZes heeft een bijzondere subsidie van meer dan €2 miljoen toegewezen aan baanbrekend onderzoek naar prostaatkanker. Vier experts, Prof. Guido Jenster (coördinator, Erasmus MC), Prof. Jack Schalken (Radboud UMC), Dr. Connie Jimenez (VUmc) en Prof. Michiel Kreutzer (TU Delft) gaan gezamenlijk unieke eiwit en RNA markers in urine analyseren om de aanwezigheid en agressiviteit van deze ziekte aan te tonen.
De recente ontdekking dat kankercellen kleine blaasjes (vesicles of exosomen genoemd)  in de urine uitscheiden vormt de basis van het onderzoek. Deze blaasjes zijn gevuld met eiwitten en RNAs die van de kankercel afkomstig zijn. De afwijkingen van de kankercel zijn daarmee af te lezen aan de uitgescheiden blaasjes. Urine is dus een belangrijke bron geworden van markers voor de diagnose en prognose van prostaatkanker.
Het onderzoek zal uitgevoerd worden door unieke eiwitten, RNAs en het aantal blaasjes in urine te meten. Het onderzoek van Dr. Irene Bijnsdorp naar microRNAs en exosoom-eiwitten en het onderzoek van Dr. Elena Martens aan nieuw ontdekte RNAs, vormen het uitgangspunt voor nieuwe testen. Dr. Martin van Royen en Dr. Volkert van Steijn gaan een microfluidics apparaat ontwikkelen om het aantal blaasjes in urine te visualiseren en te tellen. Onder leiding van Dr. Gerald Verhaegh wordt de klinische meerwaarde van al de verschillende testen in een grote groep patiënten vastgesteld.  

Electronen microscopie van de superkleine blaasjes uitgescheiden door prostaatkankercellen.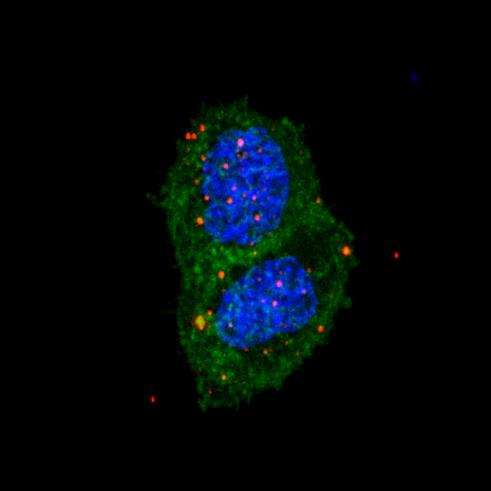 Visualisatie van kleine blaasjes (in rood) die aanwezig zijn in en op een (groene) kankercel met een blauw aangekleurde kern (DNA).
English abstract: Body fluid derived extracellular vesicles as novel tool for minimally invasive diagnosis and prognosis of prostate cancer
Background: Prostate cancer (PCa) is the most common malignancy in Dutch men expected to affect 15,000 new patients/ year by 2020. PCa diagnosis and prognosis is based on serum prostate specific antigen (PSA), digital rectal examination (DRE) and multiple invasive tissue biopsies. Each of these procedures has serious shortcomings, leading to unnecessary biopsies, inaccurate risk estimation and/or overdetection of insignificant cancer. Improving both diagnosis and prognosis requires a robust, minimally-invasive method that improves current clinical decision making.
Purpose: To develop robust minimally invasive assays for the diagnosis and prognosis of prostate cancer. The assays will be based on our ability to measure the PCa-associated changes in extracellular vesicles (EVs) secreted by PCa cell into the urine. Assays that determine EV number and protein and RNA content will be developed and validated.
In this innovative project, three Medical Centers will join forces and further validate and compare our molecular markers and develop into a clinically applicable tool.