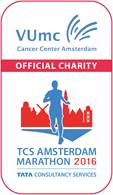 Amsterdam Marathon 2016 and the money goes to CCA (funding our new next-gen mass spectrometer)
Post by:

OPL

July 8, 2016

Comments off
Prof. dr. Henk Verheul kondigde het al aan tijdens CCA neXt: de inschrijving voor de TCS Amsterdam Marathon is open!
VUmc CCA is voor het 5e jaar hét goede doel
VUmc bestaat 50 jaar
500 lopers
€ 500.000 voor onderzoek
8 km, 21 km of 42 km, loop jij met ons mee?
Schrijf je snel in via dit formulier. Uiteraard is sponsoring een deel van de uitdaging. Sponsoring = gegarandeerd startnummer!
Heb je vragen? Ga voor meer informatie naar de website of mail naar marathon@vumc.nl.
Sportieve groeten!
Het VUmc CCA team
Ons doel
Dit jaar lopen we voor de aanschaf van een supersnelle en gevoelige massaspectrometer, een apparaat dat grootschalig eiwit (proteomics) onderzoek mogelijk maakt.
Binnen een tumorcel zijn het de gefosforyleerde eiwitten (fosfoproteomics) die ervoor zorgen dat kankercellen groeien en uitzaaiingen veroorzaken.
Een kankercel heeft meer dan 1.000 van die eiwitten. Met de massaspectrometer zullen we onderzoeken welke eiwitten geblokkeerd moeten worden om de groei van de kanker te stoppen. Hiermee hopen wij de volgende stap te kunnen zetten in persoonlijke behandelingen van mensen met kanker.